Clear and simple overview
All possible entries are clearly arranged in a list.
You can see the current price, the 24hr price change of the coin and other relevant information.
On the same page you see a overview of filters and the latest Market Climate values.
All options can be filtered so that you only receive interesting notifications.
Exchanges: Binance & Binance Futures
Basecoins: BTC, USDT, BUSD, ETH & BNB
Chart intervals: 1m, 2m, 3m, 5m, 15m, 30m, 1h, 2h, 4h, 6h, 1d
Other possible filter options:
Blacklisting
Minimum price
24h volume – 24h price change
"Should I trade or should I wait?"
The Market Climate shows how the crypto market is doing at the moment – and for the past 24 hours.
We calculate every minute whether the average price of altcoins is currently higher or lower than 1h, 4h and 1d ago.
This should give you a good idea to decide whether it is a good moment to take long or short trades, or maybe just not trade at all.
The strategies in the scanner are based on indicators.
You can use existing strategies that are in the scanner, but you can also build your own strategy..
Activate the indicators you wish to use with 1 click, choose which values ​​they must meet in order to generate a valid signal for you.
New indicators are added regularly.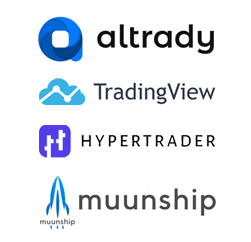 Direct connection to tradingtools
Behind every entry there is a link to your favorite trading tool.
When you click on this, this tool immediately opens the correct chart at the correct time interval.
This way you can quickly decide whether or not you want to enter this trade.